MONSTER HUNTER FREEDOM 2
Edit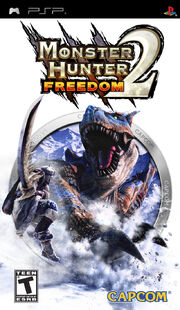 Monster Hunter Freedom 2 is the English equivalent of Monster Hunter Portable 2nd released in Japan. It is an expansion of Monster Hunter 2 with the omission of Yama Tsukami. Instead, two more monsters, the Tigrex and Akantor were added.
IMPROVEMENT AND ADDITIONS
Edit
Improved graphics
Item and Equipment list now 6 pages instead of 4
Rarity increased from 7 (orange) to 8 (red)
Gunlances, Dual Swords, Long Swords, Bows and Hunting Horns added since Monster Hunter 2.
Download system that allows you to download quests(up to 6 at a time) and bonuses such as Poogie outfits.
A set of MH2 monsters returning under their new english names.
Farm points (Pokke Points) are a different currency and cannot be retrieved from selling things; Only from gathering quests & any other methods.
Unlike MH2, the day and night effect is now fixed on the selected quests.
G-rank quests have been removed.
Timing of roars and monster sound coordinated and improved.
Pokke Farm now with many extra things.
Many more new plants, ores, bugs, carves, armor and weapons.
Instant transportation from exits of areas.
New Training School options.
New clothes.
Treasure quests can now be played with one player.
INFORMATION
Edit
Release Dates:
Japan - February 22, 2007
U.S.A. - August 29, 2007
Europe - September 7, 2007
Australia - September 12, 2007
Small Monsters:
Popo, Anteka, Giaprey, Hermitaur, Ceanataur, Blango, Conga, Shakalaka, Vespoid, Hornetaur, Remobra, Great Thunderbug, Genprey, Ioprey, Velociprey
Large Monsters:
Giadrome, Bulldrome, Congalala, Blangonga, Velocidrome, Iodrome, Cephadrome, Gendrome, Daimyo Hermitaur, Shogun Ceanataur, Tigrex, Chameleos, Kushala Daora, Lunastra, Teostra, Rajang, Shen Gaoren, White Fatalis, Akantor
Ad blocker interference detected!
Wikia is a free-to-use site that makes money from advertising. We have a modified experience for viewers using ad blockers

Wikia is not accessible if you've made further modifications. Remove the custom ad blocker rule(s) and the page will load as expected.