Ad blocker interference detected!
Wikia is a free-to-use site that makes money from advertising. We have a modified experience for viewers using ad blockers

Wikia is not accessible if you've made further modifications. Remove the custom ad blocker rule(s) and the page will load as expected.
MONSTER HUNTER PORTABLE 3RD Release
Edit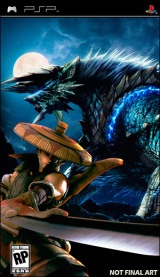 Monster Hunter Portable 3rd or Should i say Monster Hunter Freedom 3
On IGN i see Monster Hunter Freedom 3 Will release on December 31 2011 (Last Day of the year 2011) XD
The weird part is in here it says TBA To Be Anounced
http://psp.ign.com/objects/143/14325195.html
2.And in here it says it's December 31 2011 (Look at the Below of the Picture)
http://www.ign.com/cheats/games/monster-hunter-freedom-3-psp-14325195
Note: Gaming sites and gaming shops always, and I do mean ALWAYS, put the last day of the year on a game that they have no idea when the release date is. Chances are that after 2011 is over, the date'll change to December 31, 2012.